Wendy Ruggeri, MD
Emergency Physician
Wednesday, December 29, 2021
5pm-6:30pm PST
Click on the YouTube link below to view this webinar. Once you have viewed the presentation, you can log back in and take the Quiz for this event. A score of 70% or above will earn you a Certificate for 2 hours of Medical Mentorship
Workshop Description:
Are you interested in Emergency Medicine? Do you know where to start as a premed? Do you know what it takes to be an ER physician?
Come and learn from the inspiring story of Dr. Ruggeri, who attended SMC as an Argentinian immigrant and completed her undergraduate and medical degrees at UCLA and residency at NYC. She is currently active in her community and speaking on health matters to the Spanish-speaking community in California and the United States.
About the Speaker:
Dr. Ruggeri is from Córdoba, Argentina and immigrated to the United States. She commenced her education at Santa Monica College and transferred to UCLA and completed her Bachelor of Science in Physiological Sciences. She completed her medical education at David Geffen School at UCLA. She subsequently completed her residency in Emergency Medicine at Weill Cornell Medical College in the heart of New York City, and a fellowship in EMS and Tactical Medicine.
She currently has many roles in addition to being an Emergency Medicine Physician in Los Angeles, CA. She is a Paramedic Educator, works in the LA County Jail System, and serves as the Medical Director to the LAPD SWAT Teams. She is also a Spanish Podcaster with EMRAP GO.
Dr. Ruggeri is a breast cancer survivor and a proud mother of three children.
View for Free:
When: Dec 29, 2021 5:00 PM Pacific Time (US and Canada)
Topic: From Community College to Emergency Medicine
YouTube link: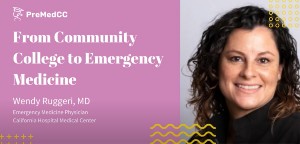 Dr.Ruggeri's Presentation Slides