Makaelah Murray
Incoming Medical Student
UCLA Geffen School of Medicine
Wednesday, August 2, 2023
5pm-6:30pm PST
Click on the YouTube link below to view this webinar. Once you have viewed the presentation, you can log back in and take the Quiz for this event. A score of 70% or above will earn you a Certificate for 2 hours of Medical Mentorship.
Workshop Description:
Unlock the extraordinary journey from community college to prestigious institutions like Howard University and UCLA Geffen School of Medicine with the guidance of Makaelah Murray, a trailblazer and an inspiration to aspiring medical professionals. Join our captivating workshop, "From Community College to HBCU Howard University and UCLA Geffen School of Medicine," and embark on a transformative path towards achieving your dreams.
In this empowering session, Makaelah Murray will share her personal experiences, challenges, and triumphs as she navigated the rigorous academic landscape. Gain invaluable insights into the unique opportunities and resources available at HBCUs and renowned medical schools like UCLA Geffen on FULL SCHOLARSHIP at Geffen Scholar!
Discover proven strategies for academic success, mentorship, and building a competitive application.
Whether you are a community college student with ambitious goals or an aspiring medical professional seeking inspiration, this workshop is your gateway to success. Don't miss this exceptional opportunity to learn from a true trailblazer. Reserve your spot now and embark on a journey of excellence, resilience, and achievement.
About the Speaker:
Makaelah Murray is a first-generation MS1 at DGSOM, a part of their PRIME-LA cohort. Being in PRIME-LA, an emphasis will be placed on serving the underserved throughout her medical education and she will graduate in 5 years after obtaining a master's degree in addition to her MD. Makaelah started her educational and athletic journey at San Joaquin Delta College, a community college in her hometown of Stockton, CA. She then transferred to Howard University, a historically black institution in Washington D.C., to continue her education while competing on the women's soccer team at the D1 level. After graduating in 2021, she came back to California where she spent two GAP years preparing for & taking the MCAT, applying to school, and working at Genentech.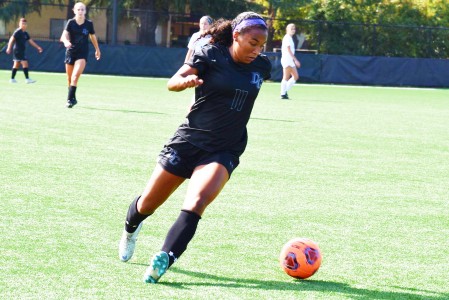 View for Free:
Topic: From Community College to HBCU and UCLA Geffen School of Medicine
When: Wednesday, August 2,, 5:00 PM Pacific Time (US and Canada)
YouTube link: