Martha C. Trujillo, BS, MPA, MHS, Director of Financial Aid
Stanford School of Medicine
Saturday November 13, 2021
11am-12:30pm PST
Click on the YouTube link below to view this webinar. Once you have viewed the presentation, you can log back in and take the Quiz for this event. A score of 70% or above will earn you a Certificate for 2 hours of Medical Mentorship.
Workshop Description:
Are you worried about paying for medical school? Are you worried that you won't be able to afford it? Are you afraid that certain private schools are out of your reach? Are you worried about how you can manage the cost of Medical Education?
Then this workshop is for you!
Presented by Ms. Martha Trujillo, who has been Director of Financial Aid at Stanford Medical School and has helped thousands of low income and first generation students reach their dreams of becoming doctors and scientists.
About the Speaker:
Ms. Trujillo has been the Director of Financial Aid for Stanford School of Medicine since 1998 and has helped thousands of students in reaching their dream and goals of graduating medical with the least amount of debt and has been recognized nationally for her work. She has led and serves on various Association of American Medical Colleges (AAMC) task forces including the AAMC's Working Group on Educational Costs and Debt, and completed a three year term as the liaison to the Group on Student Affairs-Minority Affairs Section Minority Affairs Committee to the Committee on Student Financial Assistance (COSFA). Also presented at many pre-med workshops including the annual Stanford SUMMA and URD/AMSA conferences.
Register for Free:
When: Nov 13, 2021 11:00 AM Pacific Time (US and Canada)
Topic: How Fund Your Undergraduate and Medical Education

Here's the YouTube video: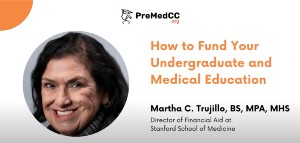 Ms. Trujillo's PowerPoint presentation: