Rohini Kousalya Siva, MD, MPH, MS
National President
American Medical Student Association

Tyra-Lee Brett
PreMed Trustee
American Medical Student Association

Friday, October 13, 2023,
3pm-4:30pm PST
Click on the YouTube link below to view this webinar. Once you have viewed the presentation, you can log back in and take the Quiz for this event. A score of 70% or above will earn you a Certificate for 2 hours of Medical Mentorship.
Workshop Description:
Step into the realm of empowered leadership and transformative change with "Launching Leaders: Kickstart a Thriving PreMed AMSA Chapter in Your Community College and University". This groundbreaking workshop, tailored for visionary premed students, unveils the roadmap to establishing an influential AMSA chapter at your institution, fostering a hub of innovation and advocacy in the medical field.
Immerse yourself in an enriching session that unveils the dynamic institutes at AMSA, introduces groundbreaking initiatives, and connects you to a robust network of leaders nationwide. Benefit from an invaluable repository of resources and steadfast support from a national organization steadfastly dedicated to nurturing the next generation of trailblazers in medicine and healthcare.
Under the guidance of Dr. Rohini Kousalya Siva, the incumbent National President of AMSA with a remarkable trajectory in advocacy and policy reform, you will be equipped with actionable insights and strategies to spearhead impactful changes in your community.
Joining her is Tyra-Lee Brett, National PreMed Trustee, a beacon of perseverance and community service, whose journey from Johannesburg to the helm of advocacy and research in the U.S. epitomizes dedication and passion. Tyra's commitment to enhancing resource accessibility for underprivileged premed students mirrors the essence of AMSA's vision.
Seize this golden opportunity to foster a thriving AMSA chapter, becoming a pivotal force in shaping a future where healthcare is inclusive, progressive, and compassionate. Join us, and embark on a journey to becoming a conscientious leader, ready to carve a transformative path in the medical sector.
About the Speakers:
Rohini Kousalya Siva, MD, MPH, MS is the National President of AMSA. She joined AMSA in 2017 as a Medical Master Pre-Med student and honed her skills in advocacy. She is passionate about reproductive health issues and policies ranging from anti-human trafficking efforts to advocacy around abortion access and affirming care for LGBTQIA+ individuals. She wants to continue working on medical education reform, especially in trauma-informed care and interventions, reproductive justice, and public health policies. Dr. Siva loves working on her micro art, hiking, and baking in her free time.

Tyra-Lee Brett is an immigrant from Johannesburg, South Africa. She is a Biomedical Sciences major who attends the University of South Florida. Tyra-Lee is a community college alumni who started her medical journey at Hillsborough Community College. Tyra's passion is serving the underserved and creating a long-lasting impact! Tyra is a volunteer at the Tampa VA and has done undergraduate research. Tyra is the Premedical Trustee for the American Medical Student Association, where she advocates nationally for health-related topics and medical education. Tyra has combined her love for research and advocacy to design projects to enhance access to premedical resources for underprivileged students.
View for Free:
Topic: Launching Leaders: Kickstart a Thriving PreMed AMSA Chapter in Your Community College and University
When: Friday, October 13, 3:00 PM Pacific Time (US and Canada)
YouTube link…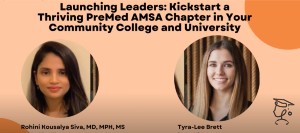 About AMSA:
We're the American Medical Student Association — we exist to prepare, train and embolden medical students to become leaders. Advocates for quality and affordable health care for all. Ushers of a better, more inclusive, equitable future.
With over 30,000 members from across the globe, we're the largest and oldest independent association of physicians-in-training in the United States. For over seven decades, we've armed students with the training and experience to lead, use their voice and challenge the status quo.
For decades, our members have asked the question: what needs to change to improve and advance healthcare/medicine for all? We have the audacity, again and again, to create programming and learning opportunities that seek to answer this question — filling gaps that often exist in medical school training. As believers in progress, not just in medical science but in growing our understanding of how environmental and social determinants, for instance, impact health, AMSA has continued to evolve and respond to the times.
AMSA members go on to influence positive change in the world — going far beyond drugs and diagnoses. Erik Whitaker, Leana Wen, and Kavita Patel — for example — are a few AMSA alumni.
To learn more about AMSA, visit www.AMSA.org