Glen Fogerty, PhD, MBA
Dean of Admissions & Student Services
University of Arizona College of Medicine-Phoenix
Christina J. Grabowski, PhD
Dean for Admissions and Enrollment Management
University of Alabama at Birmingham Marnix. E. Heersink School of Medicine
Pasquale Manzerra, PhD
Dean, Medical Student Affairs and Admissions
Sanford School of Medicine University of S. Dakota
Friday, April 21, 2023,
5pm-6:30pm PST
Click on the YouTube link below to view this webinar. Once you have viewed the presentation, you can log back in and take the Quiz for this event. A score of 70% or above will earn you a Certificate for 2 hours of Medical Mentorship.
Workshop Description:
Are you planning to apply to medical school but don't know the ins & outs of the AMCAS (American Medical College Application Service)? Do you know about or have the various resources and expertise needed to apply? Are you gaining your knowledge through second or third-hand advice? Do you know how Medical Schools and Deans of Admissions view your application?
Then you must attend this workshop! Here we will have three Deans of Admissions (who also serve on the AAMC AMCAS Advisory Committee) who will:
1)review the AMCAS application process,
2) explain how medical schools process and review (literally) thousands of applications annually
3) provide some best practices as you approach your application year!
In the end, you will see "behind the curtain" of three medical schools' application process, learn the pitfalls to avoid, and be ready for success!!
About the Speakers: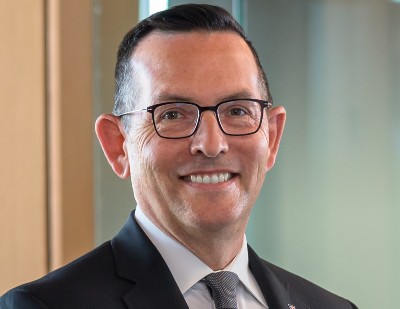 As associate dean of Admissions and Recruitment, Glen Fogerty, PhD, MBA, oversees all aspects of the college's professional MD and dual-degree admissions processes. He also guides the implementation of high school and college outreach activities, community and school partnerships, as well as the development of a robust recruitment program for diverse and talented students.
In addition to his role as associate dean, Dr. Fogerty is an assistant professor in Bioethics and Medical Humanism, directs the MD/MBA program and serves as the co-block director for the medical school's first course — Introduction to Medicine.
Prior to joining the UA family, he held faculty and administrative appointments at Northwestern University, Arizona State University and Arizona Summit Law School. He has served as Dean of Graduate Programs, Dean of Admissions and has been a member of the senior leadership group at each institution.
Dr. Fogerty received his Bachelor of Science in Hospitality Administration from Georgia State University, an MBA while living overseas, and a Doctorate in Educational Leadership and Policy Studies with a concentration in Higher Education Administration at Arizona State University.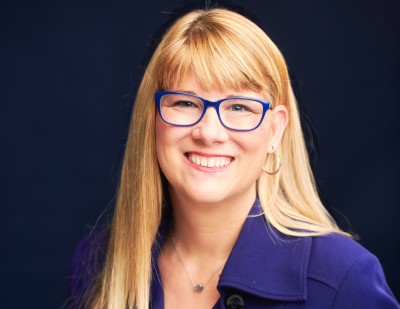 Christina Grabowski is the Associate Dean for Admissions and Enrollment Management, and Associate
Professor of Medical Education, at the University of Alabama at Birmingham Heersink School of
Medicine. She is responsible for leading the full continuum of medical student enrollment management
including recruitment, selection, scholarships and financial services, registration, and academic
records. She provides strategic leadership and voice to represent admissions and medical education on
multiple UAB Heersink committees, including the Liaison Committee on Medical Education (LCME)
Executive Committee, and as chair of the Admissions Selection and Scholarship Committees. At the
national level, she serves in multiple roles with the Association of American Medical Colleges (AAMC)
including the Advancing Holistic Principles Enrollment Management Working Group, the Promising
Practices in Admissions Working Group, as a holistic admissions review workshop facilitator, as a
member of the American Medical College Application Service (AMCAS) Advisory Committee, and as Past
Chair of the Southern Group on Student Affairs (SGSA). Dr. Grabowski holds a PhD in Education:
Educational Leadership with a cognate in higher education administration from Oakland University and
her research interests include access to medical education, holistic review, and diversity in the physician
workforce. She is the proud mother of three sons, now grown, and lives with her husband, Greg, in
Hoover AL.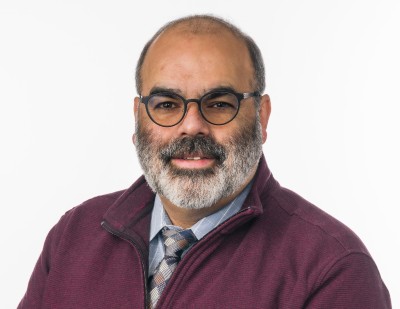 Pasquale Manzerra, PhD is the Assistant Dean of Medical Student Affairs and Admissions at the University of South Dakota Sanford School of Medicine. He has been in this position for the past 8 years and has been involved with medical admissions and education over the past 19 years. At the National level, Dr. Manzerra is member of the Association of American Medical Colleges (AAMC) American Medical College Application Service (AMCAS) Advisory Committee. He has also served as a member-at-large in the AAMC Central Group on Student Affairs
View for Free:
Topic: A Step-by-Step Guide to AMCAS and How Deans of Admission View YOUR AMCAS Application
When: Friday, April 21, 5:00 PM Pacific Time (US and Canada)
YouTube link: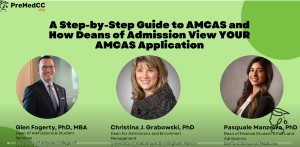 Lisa Grabowski's presentation slides
Helpful links:
2024 AMCAS Applicant Guide

Outline of the current AMCAS application process, policies, and procedures.
2024 AMCAS Application Workbook

This is the resource that I mentioned that lists all the questions, response options, and help text in the application, so applicants can have a full example of what to expect in the actual application.
2024 Work/Activities Guide

This resource demonstrates how to enter "Completed" and "Anticipated" hours in the Work/Activities section
Background on New Other Impactful Experiences Question (Previously Self-Reported Disadvantaged Status)

In addition to sharing the background on this question, this document provides the full text of the question and help text, along with some FAQs and guidance on responding to the question, intended usage, etc.
Social Justice/Advocacy New Experience Type

This document provides information on the development of this new experience type and what types of experiences might be classified under this category
2024 AMCAS Updates and FAQs

This page shares an overview of all the changes for the 2024 application cycle (this information is also captured in the Applicant Guide and the Application Workbook)
AMCAS Course Classification Guide

This guide provides examples of how courses are often categorized
AMCAS Applicant Website

This is the primary AMCAS website for applicants
AAMC Fee Assistance Program

Information on the AAMC Fee Assistance Program (FAP), which assists those who, without financial assistance, would be unable to take the Medical College Admission Test® (MCAT®), apply to medical schools that use the American Medical College Application Service® (AMCAS®), and more
AMCAS Application Protocols and Policies