Charles Vega, MD
Director of PRIME-LC
Assistant Dean for Culture and Community Education
UC Irvine School of Medicine
UCI Medical Students
Friday, April 28, 2023,
5pm-6:30pm PST
Click on the YouTube link below to view this webinar. Once you have viewed the presentation, you can log back in and take the Quiz for this event. A score of 70% or above will earn you a Certificate for 2 hours of Medical Mentorship.
Workshop Description:
Are you a premedical student looking to stand out in the competitive field of medicine? Look no further than the UCI PRIME-LC Program workshop! This program is designed explicitly for premed students seeking to enhance their leadership skills and gain a competitive edge in the medical field.
Our expert instructors will guide you through interactive activities and group discussions that will give you the tools and knowledge you need to succeed.
You will learn how to communicate effectively with patients, navigate the healthcare system, and lead teams in the field of medicine. Take advantage of this opportunity to gain the skills and knowledge you need to excel in your future career.
Come join to meet, hear, and ask questions of Dean Vega, Executive Dean and Director of UCI PRIME-LC, and 2 medical students in PRIME-LC at UCI School of Medicine.
About UCI PRIME-LC
UCI PRIME-LC stands for UCI Program in Medical Education for the Latino Community – Leadership and Community. It is a program that aims to increase the number of Latino physicians in California by providing educational and leadership opportunities for Latino students interested in pursuing a career in medicine. The program is based at the University of California, Irvine (UCI) and is run by the UCI School of Medicine. The program includes a combination of academic coursework, mentorship, and community service opportunities, which are designed to prepare students for a successful career in medicine and to improve the health of underserved communities.
About the Speakers:
Chuck Vega grew up in Northern California and completed his undergraduate degree at Harvard University. He attended medical school at the University of Wisconsin – Madison and completed residency training in Family Medicine at UC Irvine. He stayed on as faculty in the Department of Family Medicine at UCI and now holds the title of Health Sciences Clinical Professor. He is the Executive Director of UCI's Program in Medical Education for the Latino Community and won a Macy Faculty Scholarship to improve patient-centered health education at UCI. He currently serves as Assistant Dean for Culture and Community Education in the UC Irvine School of Medicine.
Dr. Vega has seen patients and taught medical students and residents at UC Irvine's Family Health Center – Santa Ana for the past 20 years. This clinic is a federally-qualified health center and the largest safety-net clinic for Orange County. Dr. Vega's academic interests are focused on access to quality, compassionate medical care for underserved populations, and the development of training programs to promote this vision of healthcare.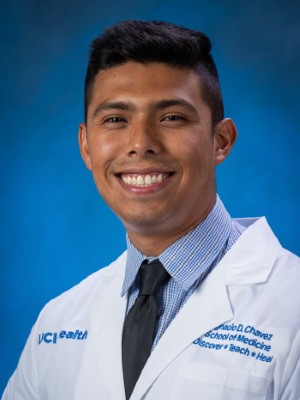 Ignacio Chavez, MS I
Ignacio Chavez is a first-generation college student and child of Mexican immigrants. He attended Orange Coast Community College for three years and transferred to the University of New Mexico, where he completed his bachelor's degree in Nutrition and Dietetics. Ignacio also completed a master's degree in Nutrition, with a concentration in Medical Nutrition Therapy, at Saint Louis University and gained clinical experience working as a dietetic intern at Barnes-Jewish Hospital.
After finishing his training, he worked as a nutritionist for the Special Supplemental Nutrition Program for Women, Infants, and Children (WIC) in Albuquerque, New Mexico. His experience working with participants at his clinic, located inside a federally qualified health center, ignited a passion for working with underserved populations and solidified his decision to pursue medicine. Ignacio returned to community college to complete medical school prerequisite courses and is now part of the Program in Medical Education for the Latino Community (PRIME-LC) at the UC Irvine School of Medicine.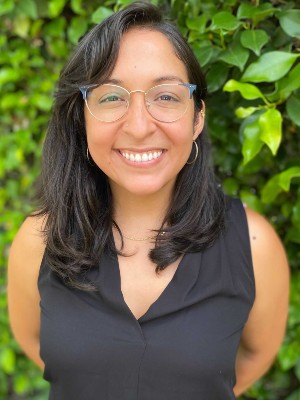 Ariceli Alfaro, MS III
Ariceli Alfaro (she/they/Ella) is a QPOC-identifying, first-gen, PRIME-LC medical student hoping to pursue a dual residency. She was born and raised in Southern California and was fortunate to attend Princeton University. The Bay Area became a second home after college as she worked to provide for her mom financially. As a non-traditional student, she appreciated having time to travel with her partner and experience some life outside of school and medicine. She participated in the UCSF Medical Post-baccalaureate program before attending UCI SOM. The main principles that guide how she practices medicine are radical compassion and inclusion, continual growth, and civic responsibility. Ariceli aims to remain receptive to feedback from patients and peers and to remain a learner for her entire career to improve patient care. She fostered these values throughout her life and recognized that philosophies of social justice and spiritual enlightenment influence them. She cares to see others grow because she does not want to continue to live in a world where these systems are not built for folks like her.
View for Free:
Topic: What is UCI PRIME-LC & How To Be A Competitive Applicant
When: Friday, April 28, 5:00 PM Pacific Time (US and Canada)
YouTube link: