JJ McCue, MS III
3rd Year Medical Student
University of Washington School of Medicine
Wednesday, June 8, 2022
5pm-6:30pm PST
Click on the YouTube link below to view this webinar. Once you have viewed the presentation, you can log back in and take the Quiz for this event. A score of 70% or above will earn you a Certificate for 2 hours of Medical Mentorship.
Workshop Description:
Have you received a C in a premed class? Have you failed a class? Do you think that one bad grade can impact your acceptance into medical school? How about 13?
Then you should come and meet JJ McCue, who failed 13 classes and was still able to get into a top medical school at the University of Washington. Come and hear his story and ask him questions about his journey and how he was able to overcome his challenges.
About the Speaker:
Growing up as a hockey player, JJ McCue spent time between Fort Collins, Colorado and Cheyenne, Wyoming. During his senior year of high school, he went to play in Dallas Texas. He spent time playing in Chicago and the Saskatchewan Junior A Hockey League following high school. When his career ended in 2010, Jackson moved back to Fort Collins.
From 2010 to 2013, JJ competed in Brazilian Jui Jitsu and Mixed Martial Arts to fill the void left by his hockey career. He worked as a nutrition coach and attended some community college classes. Those classes were the least of his concerns and he failed many of them.
In 2013, his grandmother was diagnosed with Alzheimer's' disease. JJ decided that he wanted to pursue medicine. Friends and family got a kick out of this because he had a history of passing out around medical stimuli and historically was a poor student.
JJ started at Front Range Community College from 2013 to 2016 and completed a Bachelor of Science in Human Nutrition and Metabolism from Colorado State University. He was named "The Outstanding Senior" of his graduating class. In 2016, he began applying to medical school and went to work for Virta Health, a company working at the intersection of nutrition and medicine.
In 2020, he was finally accepted to several medical schools. He ended up attending the University of Washington School of Medicine via the WWAMI Wyoming program. He is now a Targeted Rural and Underserved Track (TRUST) Scholar.
On 6/1/2022, his book – How to Fail 13 Classes and Get into a Top Medical School – will be available to buy on Amazon Kindle. The book contains the high-level mindset and tactical approaches that JJ used to overcome his low GPA to get medical school acceptance.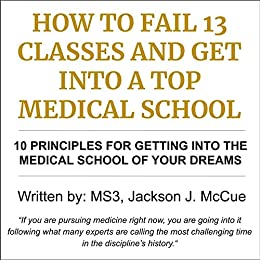 View for Free:
Topic: How to Fail 13* Classes and Get Into A Top Medical School
When: June 8, 2022 5:00 PM Pacific Time (US and Canada)
YouTube link: