The PreMedCC Team
Monday December 27, 2021
5pm-6:30pm PST
Click on the YouTube link below to view this webinar. Once you have viewed the presentation, you can log back in and take the Quiz for this event. A score of 70% or above will earn you a Certificate for 2 hours of Medical Mentorship
Workshop Description
Are you confused about how to gain Clinical Experience for medical school? Are you worried about what is considered Clinical Experience? Are you worried about the impact of COVID-19 in gaining Clinical Experience?
Then you MUST attend this workshop to learn about the numerous options that are available to you right now and learn the steps to take.
This will be a team approach presentation. Come prepared to take notes and learn.
View for Free:
When: Dec 27, 2021 05:00 PM Pacific Time (US and Canada)
Topic: How to Gain Clinical Experience as a Pre-Med at Community College and Beyond
YouTube link: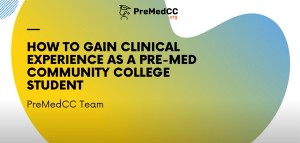 Clinical Experience Presentation Slides